Events
Upcoming Events

Previous Events
Value Capture to Fund Public Transportation with Dr. Shishir Mathur
December 7, 2020
Join us on Monday, December 7th, 2020, at 7pm in a Zoom meetup to discuss various topics related to the results of the November election and what we're doing to continue to advocate for land value capture in California.
We're also excited to have a special guest presentation by Dr. Shishir Mathur of the San Jose University Mineta Transportation Institute. Dr. Mathur will present on the impact of the Warm Springs BART station on the value of neighboring residential properties in Fremont, CA.
Discussion: The First Angry Man
October 16, 2020
The First Angry Man, a film by Jason Andrew Cohn and Camille Servan-Schreiber, documents California's infamous ballot measure from 1978, Proposition 13, and the man that led the tax revolt, Howard Jarvis.
This award winning documentary will be airing on public television in the Los Angeles and San Francisco Bay Areas.
View the broadcast in your region:
Los Angeles Area: Thurs. Oct. 15th 8pm on Channel 50 (KOCE - PBS SoCal)
San Francisco Bay Area: Fri. Oct. 16th 8pm on Channel 9 (KQED)
If you are unable to view these broadcasts, many public library systems throughout the state offer access to an on-demand streaming video platform called Kanopy. This can provide you with free access to documentaries and independent films, including The First Angry Man, using only your public library card. This includes both the Los Angeles and San Francisco public libraries and many others throughout the state. The film is also available to stream for $5 on iTunes and Amazon:
Then join us via Zoom Meeting at 9pm, Friday, October 16th (after the broadcast) to discuss the documentary and how it relates to this year's Proposition 15. Please respond to the form below. The link to join this Zoom meeting will be sent via email before the scheduled discussion.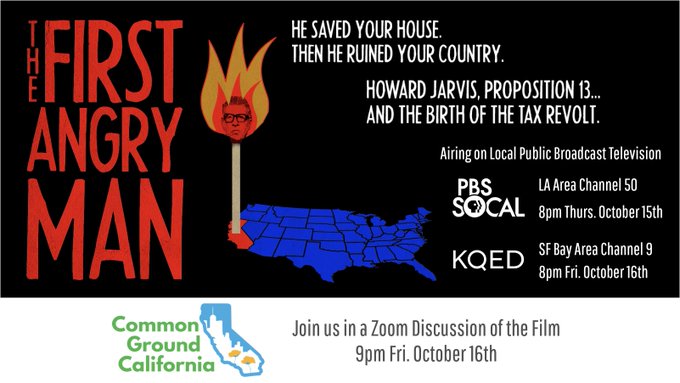 What Would Henry George Say About Prop 15: An Introduction to Georgism
September 16, 2020
Prop. 15 proposes to change commercial property taxes in California. Join us via webinar 9/16 at 7pm to learn about its relation to the principles of land reform and land value capture.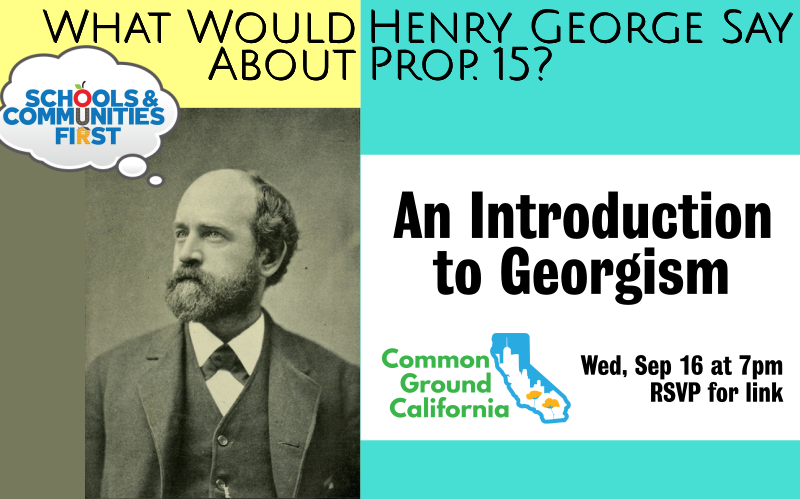 "Who Owns The Earth?" at the San Francisco Public Library
10/12/19 - 12/28/19
Who owns the earth? Why is there so much poverty amid so much wealth? Who has the right to profit from nature? This exhibit highlights the life and work of Henry George, the social theorist and economist, who observed this paradox 140 years ago while living and working in San Francisco. His book Progress and Poverty (1879) stirred his generation to question social inequities during the Gilded Age as the pockets of land barons and railroad monopolists fattened off the natural wealth in land. George's keen analyses offered a simple solution—reinvest the economic value of land back into the society that created it.
Progress and Poverty became an international bestseller with translations in more than 30 languages. George's ideas are still relevant today as the San Francisco Bay Area grapples with the highest land values and rents in the nation and unprecedented homelessness. This exhibit contains original written works by George, as well as photos and ephemera that show how his theories reverberated over time.
Sponsored by the San Francisco History Center, in partnership with the California Chapter-Common Ground USA, The Henry George Schools, New York City and San Francisco, The Robert Schalkenbach Foundation and Shaping San Francisco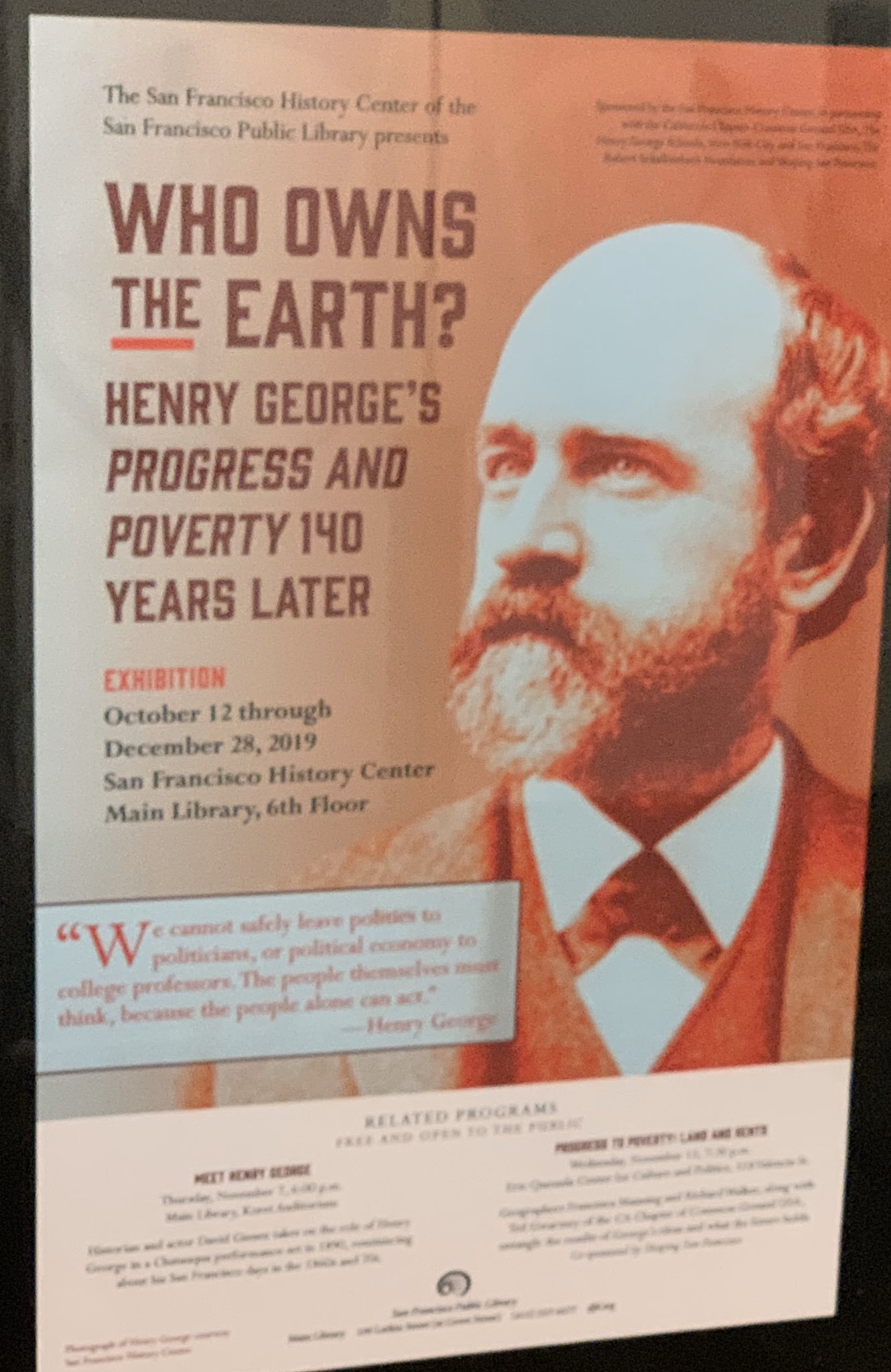 Progress to Poverty: Land and Rents
The Eric Quezada Center for Culture and Politics, 518 Valencia Street (near 16th), in San Francisco
hosted by Shaping San Francisco on November 13, 2019
Mary Rose Kaczorowski, President, California Chapter of Common Ground USA and exhibit guest curator: Who Owns The Earth? Henry George's Progress & Poverty 140 Years Later.
On the 140th anniversary of Henry George's Progress and Poverty, his land tax and radical reform of land use are worth a critical re-examination. Geographer Richard Walker along with Ted Gwartney of the California chapter of Common Ground USA, untangle what George proposed, what happened as a result of his ideas, and what the future holds. In conjunction with the San Francisco Public Library exhibit Who Owns the Earth? Henry George's Progress & Poverty 140 Years Later (October 12- December 28, 2019).